Services
Web development
Website migration
SEO tuning
Hosting
Resources
Fullstack developer
Project Manager
Technical Director
Architect
Tech
RDS small database (Strapi's DB)
1 small EC2 (Strapi server)
S3 bucket for assets
S3 bucket for the website
CloudFront
Route53
objective
Hello Again created a static generated professional website powered by a Headless CMS, along with the new brand Zepto (ex Split Payments).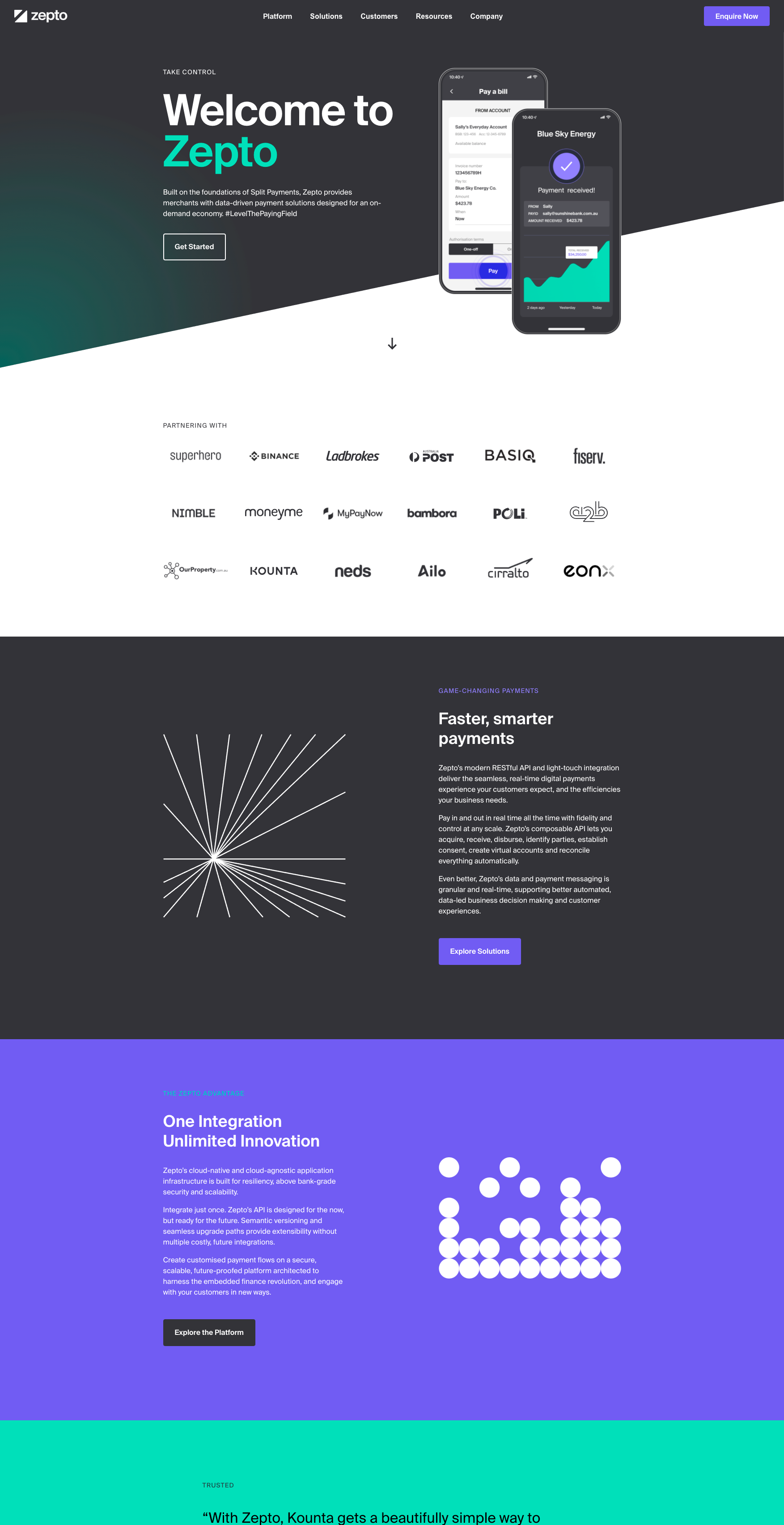 UNIQUE PROBLEMS TO SOLVE
Leading the project and coordinating multiple agencies all over Australia to get deliverables on time and comply with the hard deadline for launching the new brand/website.
HUMAN-CENTRED APPROACH
Built on the foundations of Split Payments, Zepto provides merchants with data-driven payment solutions designed for an on-demand economy.
FROM THE CLIENT
I want to thank you for the incredible job you've done with this website. I know it's been a challenging project, working with multiple agencies, dealing with significant scope creep and a brand that's evolving by the minute, but you guys have been absolute superstars and have shown nothing but the most incredible patience, creativity and professionalism throughout the entire journey. So thank you, you've been an amazing team to work with and I hope we can keep this relationship going for a long time. - Marketing Coordinator at Zepto


TECHNOLOGY
From a technical perspective, we built a static generated website with a headless CMS called Strapi.
This modern approach allows for a "web app" feeling, with super fast page load, which is great for SEO, increased UX satisfaction, while keeping hosting costs to a minimum.
The website is also integrated with Copper for CRM and cheaply hosted on AWS S3 bucket.